Today I got the privilege to go out to dinner with my two beautiful girls. Rowan asked me before nap time if we could go to a restaurant and I told her we could for dinner. So we went to a fantastic restaurant called
Taco Boy
. I found this restaurant though my Summerville Natural Mom's group. The food here is just amazing. It is so fresh and delicious. They use local products when available. The take home boxes are cardboard and the kids cups are biodegradable. I love a restaurant that is moving towards bettering this earth. They can have my money any day. I ended up getting the Shrimp Tempura Taco and the Grilled Chicken Taco. The girls got a Chicken Quesadilla. The girls entertained themselves by playing with playdough.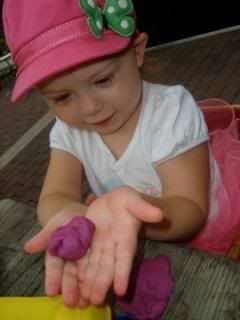 Can you guess what it is?????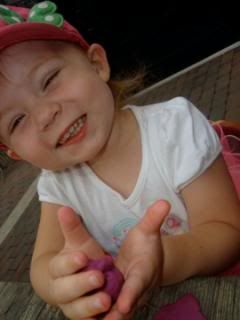 Well if you guessed POOP you would be RIGHT!
Yes she made Poop at dinner with her purple playdough.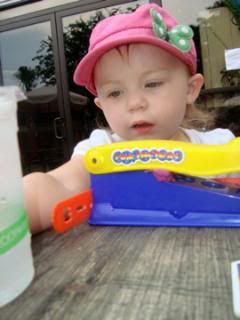 Then the wonderful Rowan requested to go on a bike ride. SOO WE DID! Got the drink and lovey and off Mommy rode to burn off her two tacos. ;-)